Backstory about hands2hearts
The backstory of hands-to-hearts
Posted on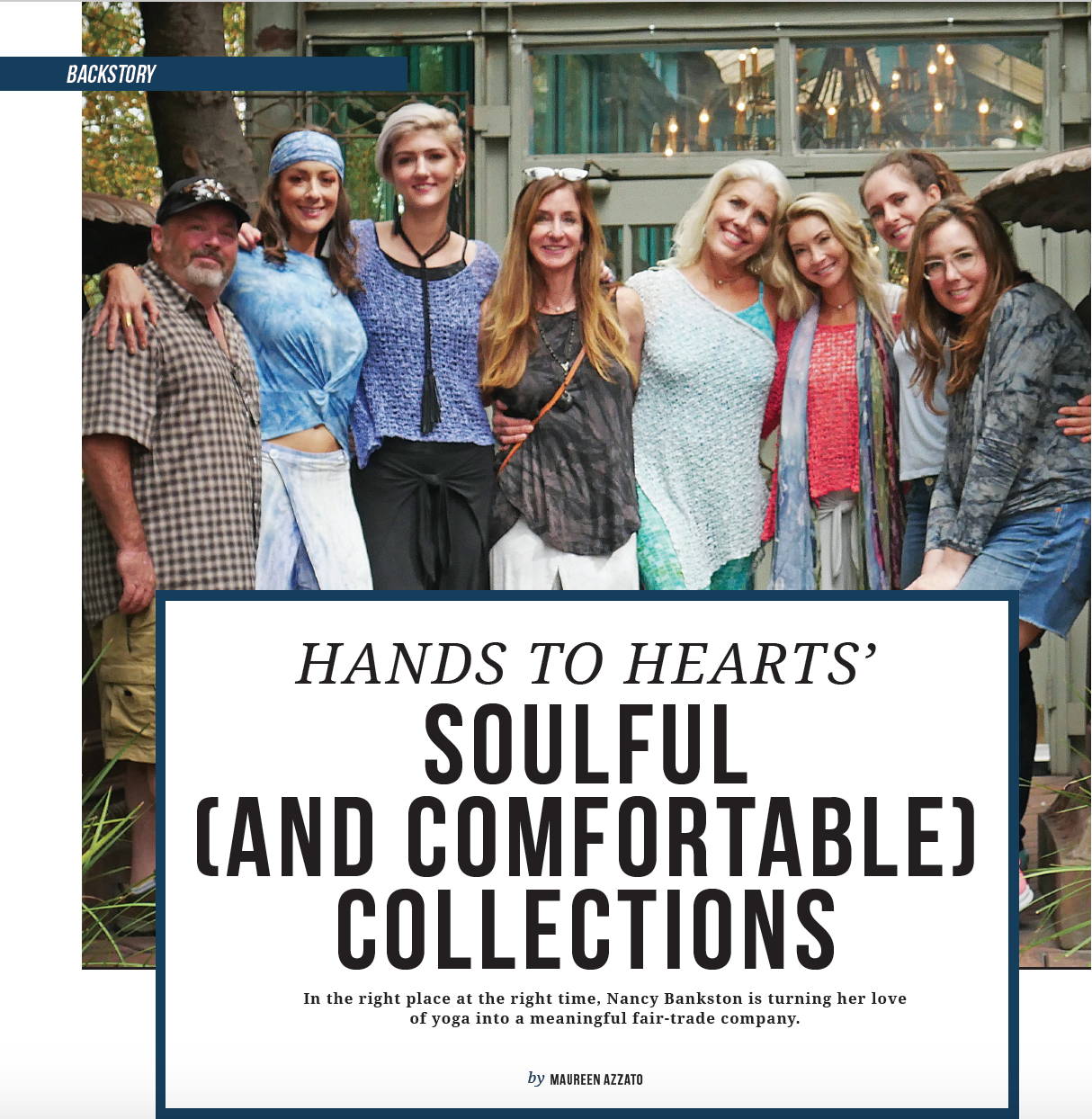 PICTURE: From left to right at a recent photo shoot: photographer Gregg Cestaro; models Maria Hamadeh and Molly Gillespie; Nancy Bankston; artist and longtime friend Jamie Thomas (wearing a Soul Warmer); model Cindy Ichikawa; hair and makeup artist Brittany Thomas and Jessica Higgins, Bankston's assistant.
Written by Maureen Azzato for Gifts & Decorative Accessories
Nancy Bankston had one mission in mind when she launched Hands to Hearts four years ago: to make women's apparel as comfortable as yoga clothes, but more fashion forward. As often happens with entrepreneurs presented with a business idea, there were numerous moments of serendipity where Bankston claims "the universe took over".
It all began in Guatemala, which then lead Bankston to Bali. Before Hands to Hearts, Bankston had been a student of fashion for decades with a strong affinity to apparel and textiles. In the '90s, she had her own technical sports apparel line for scullers, a business that she ultimately sold. "I was a competitive sculler since college, and I made lifestyle gear for crew and rowing."
She then re-entered the workplace, taking a position as a manager/designer for fair-trade accessories company Bamboo Trading Co., where she worked for 10 years. After her son was born, Bankston began practicing yoga and Chinese medicine. That's when she fell in love with the comfort of yoga clothes. "I was also running out of money and needed to find my next thing. I've been practicing yoga for two decades; it's part of who I am".
The advice of most business experts when a person is launching a business is to focus on what you know and love. For Bankston, that was yoga and bringing women more fashionable athleisurewear. "My most comfy clothes are my yoga clothes. They make me feel good," she said. "So, I asked, 'What's stopping us from dressing for comfort like that every day?'" The answer to that question is now found in the fashionable collections of Hands to Hearts.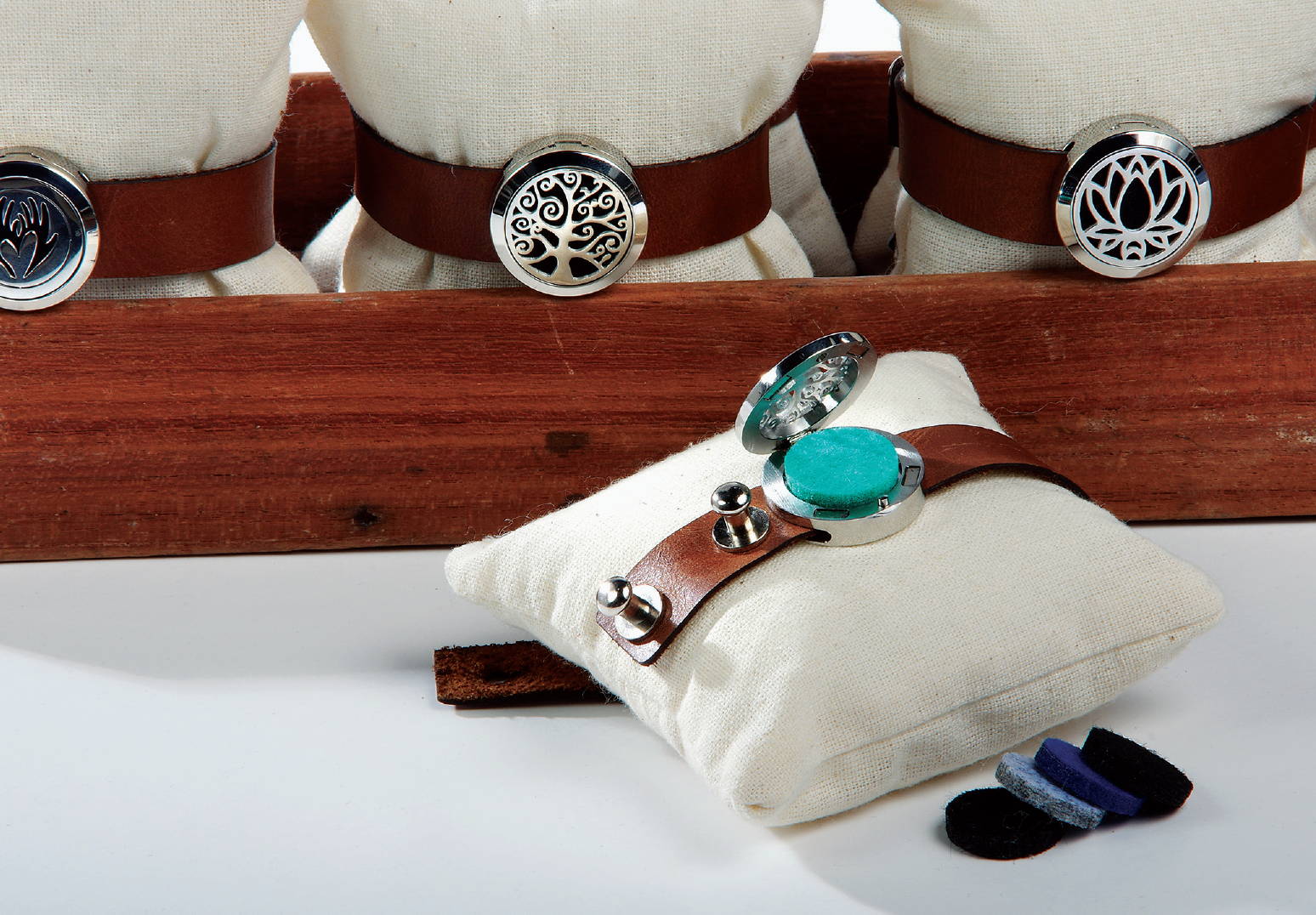 PICTURE: The new Secret Locket Soul Band bracelets have an adjustable leather band and hold a pad for the wearer's favorite essential oils. They are packaged on a fabric pillow and come with extra pads.
Artistic and Exotic Inspiration
In September 2013, Bankston was working with artisans in Guatemala and decided to spend a few weeks in Antigua exploring some trade fairs for inspiration. It was there she found a vendor from Denmark, Jostein Haugum, selling beautiful Mayan necklaces made in Indonesia.
He gave her one of the necklaces, they exchanged contact information and the rest, as they say, is history. A month later, Bankston went to Bali to meet again with Haugum and, in two weeks, she designed two batik apparel collections. They debuted at Atlanta Market in January 2014. Not only did Haugum become one of her most trusted artistic and Fair-Trade resources, but he is currently a financial business partner in Hands to Hearts.
"I couldn't have done any of this without the support of many friends and business acquaintances who believed in me and helped me," Bankston said, mentioning Bob Harris, national sales manager for Michel Design Works, who connected her with Robin Kert, principle owner of Southeast Marketing. It was Kert who gave Bankston space in her Atlanta showroom and offered to represent Bankston "without much to go on but some great product photos. She really gave me my first break." Patrick Ongena, whom Bankston knew earlier in her career from Bamboo Trading Co., also offered her space and representation in his Patrick & Company Dallas showroom.
Today, Hands to Hearts is represented by Appelman Schauben. Interestingly, Bankston's initial collections were much heavier on jewelry than apparel, but, since then, demand for her apparel collections has soared and they now represent the biggest part of her nascent business. One of Bankston's original apparel designs, Soul Warmers, remains her bestseller, although she has added new fabrications, textiles and looks.
Soul Warmers are a woven, one-size convertible fashion accessory worn over tops, pants and skirts that add a little fashion flair. "They're seasonless, cozy and breathable and can really transform your look in an instant," Bankston said, noting that this season's debuts include a subtle metallic sparkle as well as a junior version and a Mommy & Me combo Soul Warmers.
As a proud 60-year-old business owner, Bankston is acutely aware of how much apparel is geared to youth. "I wanted to create collections that all women can look and feel good in." To communicate that to the market, Bankston uses young and mature models on her website to appeal to all ages. Hands to Hearts currently sells everything from leggings, pants, tops and dresses to sarongs, long cardigans, vests, headbands and scarves, and a multitude of other accessories.
If Bankston is disappointed in anything about how the business is evolving, it's that buyers often overlook jewelry and accessories. When designing collections, Bankston includes accessories in four color palettes for easy mixing and matching. "Maybe I have to do a better job of showcasing how important the accessories are to the look," she said.
"We're a fair-trade company with artisans creating beautiful, handmade products with gratitude … It doesn't get much better than that for me."
– Nancy Bankston
Kicking it up a Notch With nearly four years under her belt, Bankston is ready to tackle the next growth phase of her business. "My biggest surprise in running the business is how hard it is to build a brand," she said. "It's not enough to have great product – retail buyers are looking for other things, as well." Bankston has managed to blend modern and abstract designs into traditional Balinese dying techniques that are thousands of years old, many of which are highly labor intensive, such as batik, shibori, tree barking and marbling.
Bankston is currently infusing her collections with more solid colors and experimenting with high-tech fabrics such as viscose and blends of cotton, lycra and viscose that drape beautifully and are machine washable (but air dried). "We used to ship fabrics from China to Bali, but I have since found a great textiles producer in Indonesia." Hands to Hearts' shipping is keeping pace with its growth, but it is not without its challenges, as most of the products and packaging continue to be made in Bali.
Grateful for her agents and team in Bali that help her manage a multitude of artists and consolidate her shipping, Bankston adores the country's culture and is keenly aware of how poor the people are behind the lavish resorts. In terms of future growth plans, Bankston said she is "taking it one bite at a time." Another surprise to her running the business is that growth requires recapitalization; to create more revenue requires more funding, which is what Bankston is working on now.
"I love the country of Bali because their culture is based on gratitude," she said. "We're a fair-trade company with artisans creating beautiful, handmade products with gratitude. The products are beautiful and have meaning. It's wearable art; each piece is unique. It doesn't get much better than that for me."